Debbie Brown Class 2018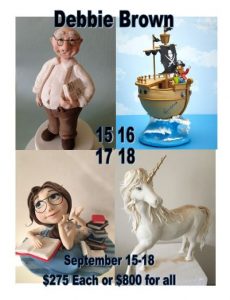 Debbie Brown From The UK!!!

We are so excited!  Debbie Brown is coming from the UK to teach here again! Come work with the internationally acclaimed artist and author. You will work with Debbie as you create sugar paste creations. She will share her knowledge and advice. If you are interested, please call right away – there are only a couple spots in the Gramps and Pirate Ship classes still available. Classes are Sept 15th to 18th.
Call or drop by the store to claim your spot!  425-348-9380.