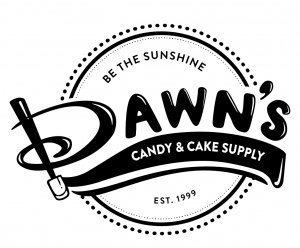 WE SELL CHOCOLATE, CANDY MAKING AND CAKE DECORATING SUPPLIES!  COME SEE US IN LYNNWOOD!
***  See Class Schedule for our classes! ***
Thank you for thinking of us. 
We appreciate your support. 
We're excited to assist you!
We're the premier candy and cake supply shop for personal and professional bakers and candy decorators in the greater Seattle area!  Located in Lynnwood, Dawn's Candy and Cake has just what you need to satisfy anyone's desire to create wonderful truffles, candy and cakes.
Not only do we have thousands of molds, melting chocolates, decorations, and cookie and cupcake supplies, but we organize cake decorating, truffle making and candy making classes!  Our classes are perfect for birthday parties, team building exercises, showers, or any type of reason!  At Dawn's, we work to tailor our classes to you!  Whether that means perfecting your butter cream piping technique or even learning for the first time how to temper chocolate, we've got you covered!
Check out our class info page to learn more about our wide variety of courses, or if you're ready to dive in, head over to our class schedule to see what courses are coming up!  Feel free to reach out to us if you don't see a class listed or scheduled that you're interested in; we'd be happy to accommodate and add the course to our schedule!
If you've been searching in vain for that special candy making or cake supply, give us a call at 425-348-9380 or use our contact page to get in touch with us!  We will do our best to track it down and order it specially for you at no extra charge.  Just ask us!
Look for us in Lynnwood, between 36th Ave W. & Alderwood Mall Pkwy in the H-Mart Plaza and feel free to drop on by!  We're always happy to help inspire new projects and to help sort out any difficulties anyone might have with their cake decorating or candy making. We're happy to be of service here at Dawn's!
Thank you for all of your support over the years.  We would not be here without you!  As always, we are improving our selection and appreciate your suggestions on how we can better serve you. 
Thank you!
Dawn & Keith Motes
Be sure to visit our Specials and Events pages here on our website for valuable offers and exciting promotions!